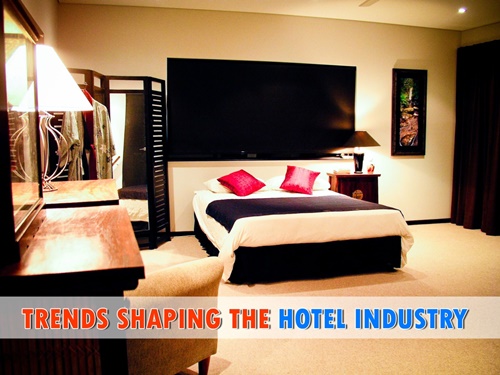 By: Sheila   A. WILLIAMS
Hospitality design will need to respond to changes in the way travellers travel and what they look for in hospitality.
Travelling is changing in the world at large. Peer-to-peer rental platforms, recent demographic shifts and customer review forums have changed the hospitality industry and will continue to do so.

Accordingly, hospitality brands are placing new emphasis on the guest experience by maximizing convenience through digital technologies and facilitating location-specific, individualized travel.
Here's a look at the emergent trends which I predict will continue to drive the effort among hospitality brands to build a positive reputation and earn customer loyalty:
Check-in redefined
Mobile devices are transforming the hotel check-in process. For instance, some prestigious hotels that provide lobby kiosks allow guests to bypass lines, get keycards and gather information about their stay. In some cases, staffs with iPads approach incoming guests to facilitate check-in and answer questions, entirely eliminating the need for a fixed front desk or concierge station.
With the hotel's app, guests are allowed to use their smart phones to make reservations and check in as well as to unlock and gain access to their rooms. The hotel industry will see continued experimentation with mobile technologies and innovative, streamlined check-in procedures in the near future.
Meet the digital concierge
Concierge services have traditionally been offered by top-tier hotels and fulfilled by well-informed individuals equipped to help guests discover a city's cultural attractions, find the best restaurants, navigate unfamiliar geographies and answer guest's travel-related questions.
Today, mid-tier hotels are leveraging digital tools to offer similar services. Hotels' app, personified by the name Lucy, makes location-specific information, including news, weather, travel details, and maps available to guests, who can also use it to control their room's thermostat, order room service and play movies and music.
Other hotels have created video content—available through the web, YouTube, or iTunes—that showcases area attractions and guides guests in the travel planning process. And in some cases, caretakers are responding to guest requests via live chats and Twitter.
The lobby as a social space for work and play
Hospitality brands are reinventing their communal spaces and lobbies to accommodate a range of activities centred on work, relaxation and play. A hotel's front desk, concierge stand, business centre, restaurant, lobby, and lounge have typically been treated as distinct spaces. Increasingly, hotels are moving toward a more integrated lobby model that addresses all of these needs, offering a comfortable, convenient space in which to congregate, enjoy food and drink, socialize and conduct business.
The multi-use lobby is typically Wi-Fi-enabled and features a mixture of furniture types and spatial configurations—lounge seating for relaxation, semi-private pods for meetings and social gatherings, and work stations with charging capabilities. We're seeing hotels use technology to encourage guests to spend more time in the lobby, too.
Guests staying healthy
There's a growing concern for the environment, health, and wellness among consumers. Many are exercising a preference for eco-friendly spaces; fresh, organic products; and opportunities to maintain their active lifestyle while traveling.
Hotels are taking both sustainability and wellness seriously. Many announce their recycling programmes, use of non-toxic cleaning supplies, and commitment to the reduction of energy and water consumption on their websites.
Wellness-focused amenities and sustainable strategies align with the lifestyle of hotels' environmentally- and health-conscious clientele. Reductions in energy consumption and the use of other natural resources result in cost savings over time.
Seeking an authentic experience
Travellers, especially romantic travellers, don't want a standardized, homogenous travel experience.
They seek to gain insight into new locales and come away from their trips with a strong sense of peace. It's not uncommon today for top-tier hotels to offer excursions that introduce guests to destination-specific cuisine, arts and crafts, and cultural attractions.
Increasingly, mid-tier hotels are differentiating themselves by showcasing local art, offering locally-sourced foods in guest room mini bars, and creating onsite programming that highlights regional culture.
Writer's e-mail address: eyram.williamsgh@gmail.com