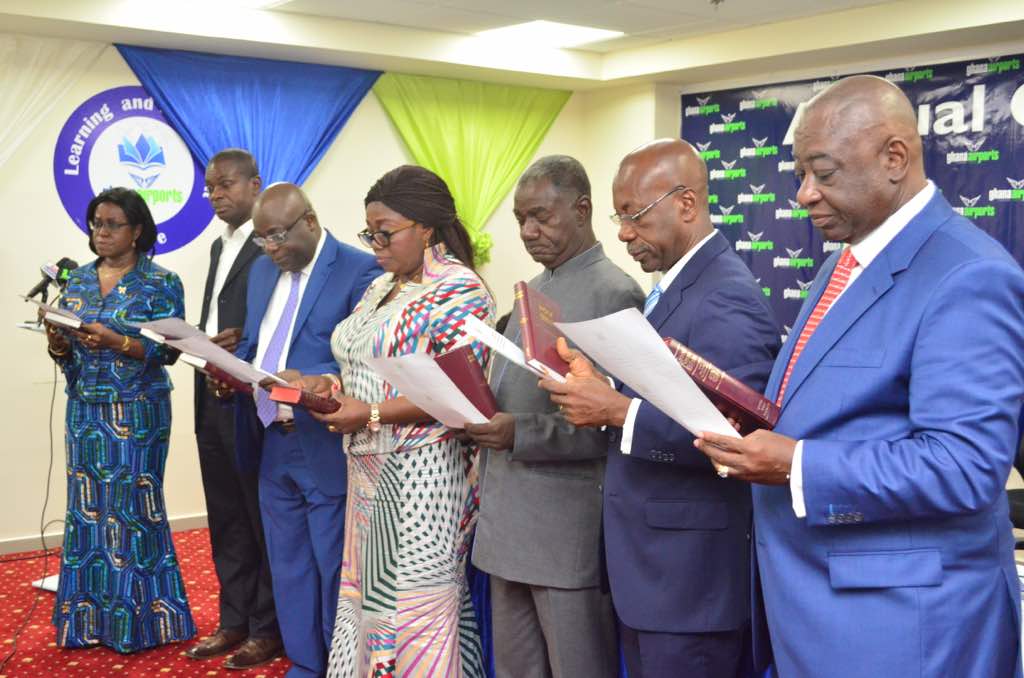 A nine-member newly constituted board of the Ghana Airports Company Limited (GACL) was inaugurated recently with a call on the board to provide strategic direction for the company towards the realisation of its vision.
Deputy Finance Minister Abena Osei Asare, who represented government, the sole shareholder, performing the swearing in stated that the board has the responsibility to guide the company in the pursuit of its vision to position Ghana as the preferred aviation hub and leader in airport business in West Africa.
This must be done through the adoption of sound, ethical and legal governance as well as financial management policies.
According to her, the board must also take into cognisance the requirements of the public financial management Act 2016 (Act 921) in the exercise of their oversight responsibility.
The Minister explained that the Act in section 90 mandates the boards of state-owned enterprises to establish and maintain policies, procedures, risk management and internal control systems and governance and management practises that will ensure that the organisation manages its resources prudently and operate efficiently to achieve its objectives.
''The contribution of Ghana Airports to the economy of the country cannot be overemphasised as it continues to improve in infrastructure development. Since its incorporation, the company has continued to post impressive financial performance and as a shareholder, we see the performance of Ghana Airports Company as a shining example in the state-owned enterprises sector,'' she noted.
Chairperson of the board, Ms. Oboshie Sai Cofie thanked the president for the confidence reposed in them, adding that she was not oblivious of the extraordinary responsibilities that go with her position as chairperson of the board. ''We persevere in our collective bid to position Ghana as the preferred aviation hub and leader in West Africa and on the continent.
Members of the board include John Dekyem Attafuah, who is also the Managing Director, Kwabena Addo Atuah, Ambassador Kwasi Baah Boakye, Kofi Owusu Sekyere, Kwesi Fynn, Kojo Addae Mensah, Comfort Boohene Osafo and Prosper Amewu.